Kevin Smith Mows Degrassi...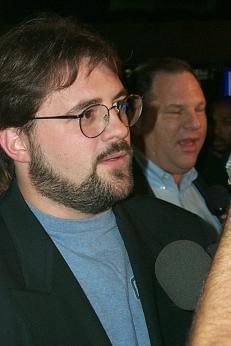 Hey guys, it's Donnie...and it seems that Kevin Smith has added anothoer project onto his already rather full slate. Word is that he'll soon be directing a feature adaptation of
Degrassi Junior High
, which is some teen TV show in Canada. I think it's like a mix of
Dawson's Creek
and Saved By The Bell. One of my more eccentric friends tried to get me to watch it late one night but I was half asleep, so I don't remember much. I know that there have been two versions of it,
Degrassi Junior High
and
Degrassi: The Next Generation
, and while Smith actually made a guest appearance in the latter, it's still unclear at this point which version the film will be based on.
So you can add Degrassi to a long list of future Smith projects, including
The Passion of The Clerks
,
Ranger Danger
and
Fletch Won
(which is the one I'm most excited for, especially if he's gonna cast Zach Brafff...). Smith's also currently acting in
Catch and Release
with Jennifer Garner and Timothy Olyphant and has been writing a
Green Hornet
movie for about the last decade, so who knows if we'll ever actually see that...